Good evening to you all lovely people!
Today, my day started pretty ugly. For several years, for a couple of months a year, I had some ugly migraines. This year started good , migraines free ( they always appeared in January and kept going till almost in summer) and I almost forgot about them, till this morning... :( A really awful migraine kept me stuck in bed all morning, with all the curtains shut! Then , at the middle of the day I wanted to try and make some cards in the hope that this way I will forget about the pain. And now I`m so happy I did it, even though I almost cried a few times, the pain is gone for now...
So this is one of the cards I made today, following the new sketch from Sketch Saturday, of course! :)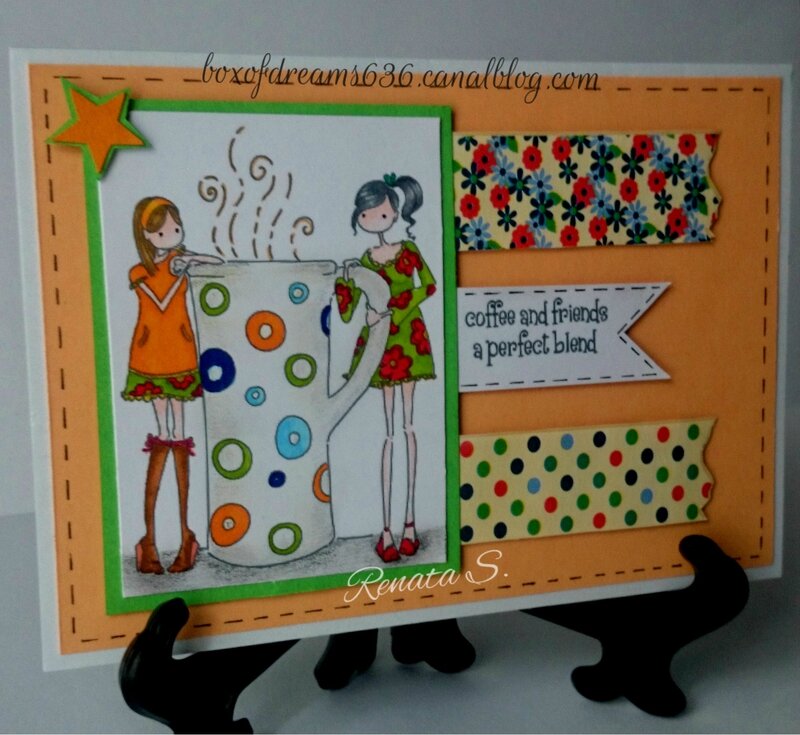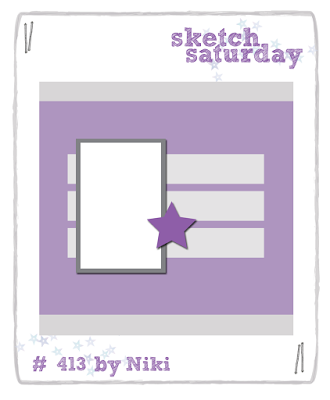 The stamp is from Stampin Bella and it`s called Uptown Girls Clarissa and Camille Share A Cafe.
I made this card with my best friend in mind! I think it`s perfect for her! When we were home, we used to get togheter to really loooooong coffees and talks! Now I live in France and she lives in England, we get our coffees togheter, mostly virtual and not as often as we would like to. I miss her soooo much!
I would like to join in with my card in the following challenges as well:
- Pixie`s Snippets Playground - Week 230 as usual, heheh. I just love her playground and all the inspiration you can find there! :)
- Glitter `N` Sparkle - Challenge #189 Anything Goes;
- Craftyhazelnut`s Patterned Paper Challenge ;
- Chocolate, Coffee & Crafts Challenges - Challenge # 109 ~ Just Us Girls ;
- Hiding In My Craftroom #251 ~ Feminine ;
- Love To Scrap Challenge # 78 - Anything Goes;
- Our Crafty Corner - Challenge 9 ~Anything Goes ;
- Brown Sugar Challenge # 199 - Anything Goes .
Tomorrow I`ll be back with the other card I finished today. It was my first time trying to do one of those , so I can`t wait to share with you also and get some advice maybe.
Hope you like the card and thank you so very much for your visits and lovely comments! I really appreciate it , even though I am so so so behind with replying back (sorry) !
Wish you a wonderful and peaceful night! xx