Hello everyone! Today I`ll show you a card I made with almost everything on it made by my hands, no machine. I`m a little nervous about showing it as I know it`s not the most beautiful result. But I think what matters the most is that it was made with all the love in the world for the most extraordinary woman in my life: my MOM! :)
My mom loves poppies and after a thorough search through my smallish stash I found out that I have absolutely nothing with poppies, so I thought why not try and draw one myself... Easy said...difficult to be made, as my drawing skills are not really the best. After the drawing , I needed a circle die on wich to layer the drawing , and unfortunately I also didn`t have one like that, so I started really determined and full of patience to hand cut one myself. Oh and the sentiment is also handwritten by me ( I know it`s very noticeable).
The only machine made materials i used are the green leafs and the tiny butterfly.
Believe it or not it took me 2 days to finish this card. Several hours just to manage to make an almost acceptable poppy, then another several hours for the hand cut circle underneath it. But totally worth it, in my opinion.
I remembered that over at Sketch Saturday they have a new sketch so I used that in order to put togheter my card. I really love the sketch! Here it is:
And now my humble result........ ( drum rolls):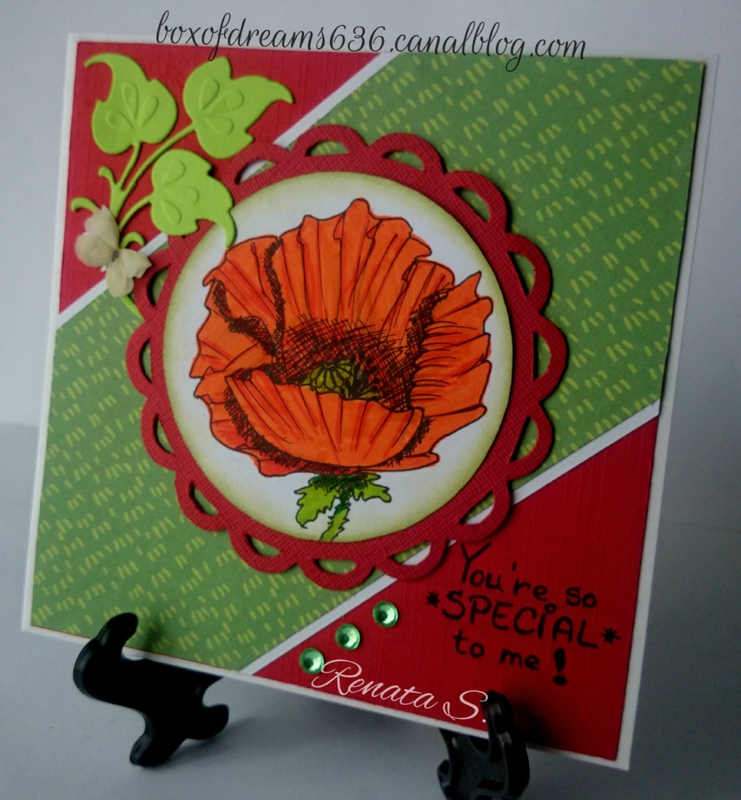 Beside Sketch Saturday, I would like to join with my card in the following challenges too:
- Pixie`s Snippets Playground - Week 228;
- Butterfly Challenge - #54 Butterflies + R is for Recycle and/ or Ruby Red ( I used just the butterfly and the color, this time);
- Glitter `N` Sparkle Challenge - #187 One for the ladies;
- Deep Ocean Challenge - #128 Flowers Everywhere;
- Crafty Friends Challenge - #31 In the garden;
- The Crafter`s Cafe Challenge - #148 Feminine;
- Craftyhazelnut`s Patterned Paper Challenge - May.
And that`s all for today, hope you lovely people don`t find my poppy to awful and hope you like my card!
Wish you a wonderful, creative day! xx